1. Myanmar Overview
• Yangon
• Mawlamyine
• Bago
• Pyay
• Pathein
• Myeik
• Sittway
• Taungu

• Mandalay
• Meikhtila
• Pakokku
• Monywa
• Moegok
• Myitkyinar
• Taunggyi
• Lashio
DEMOGRAPHIC (MYANMAR)
• AREA :
676,577 SQ KM.
• POPULATION-ESTIMATED TO BE 56.515 MILLIONS IN 2007.

| | |
| --- | --- |
| MALE | 49.09% |
| FEMALE | 50.91% |
| URBAN AREA | 24.75% |
| RURAL AREA | 75.25% |

•NATIONAL GROUPS
: 135 ETHNIC
•NATIONALITIES
: 69% BAMARS AND OTHER CHIN, KACHIN, KAYIN, KAYAR MON, RAKHINE & SHAN
LIFE EXPECTANCY : 60 YEARS
• AVERAGE HOUSEHOLD SIZE
: 5 PERSONS
• TV/ HOUSEHOLD
: 1/73
• CAR / HOUSEHOLD
: 1/54
• TELEPHONE/HOUSEHOLD
: 1/86

SOURCE FROM: UNDP REPORT 2003
2. Pharmaceutical Market Overview
• Estimated pharmaceutical market size is about US$ 100-120 millions CIF value.
• Indian Pharma Companies are about 35 % of the total market.
• Leading Indian players are Ranbaxy, Cipla, Dr.Reddy's…..etc.
• Multi National Companies are less active directly.
• Two major cities (Ygn & Mdy) contribute 60 % of total sales of Pharma Market.
• District areas contribute remaining 40%
• Growing awareness of Health care & modern life style in Major cities are increasing.
• Number of Private Hospitals & pharmacies are increasing as well.
• Some international hospitals like Bumrungrad Hospital, Bangkok Hospital are coming up.
• Prescription drugs can be sold in open market.
Pharma Market Value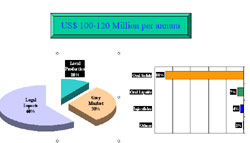 Therapeutic Groups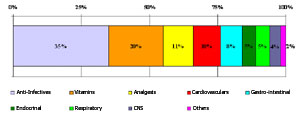 Share of Countries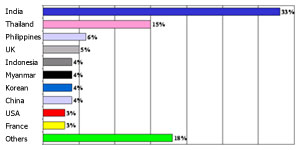 Hospital Data
Medical & Health Facilities & Personnel
Government Hospital = 790 Hospitals
Government Hospital (Above 25 bedded)= 366 Hospitals

| | |
| --- | --- |
| Approximate Specialist Hospital | 35 |
| Hospital with specialist service | 29 |
| Hospital above 25 bedded | 302 |
| Total | 366 |
Doctors in Myanmar
| | |
| --- | --- |
| No of Drs in State service | 6331 |
| No of Drs in Private practice | 11145 |
| Total | 17476 |
Type of Hospital in Myanmar
| No. | Division & State | Approx. Specialist Hospital | with Specialist Service | > 25 bedded |
| --- | --- | --- | --- | --- |
| 1. | Yangon Division | 25 | 8 | 26 |
| 2. | Ayeyarwady Division | | 1 | 24 |
| 3. | Mon state | | 1 | 10 |
| 4. | Magwe Division | | 3 | 25 |
| 5. | Bago Division | | 1 | 29 |
| 6. | Taninthayi Division | | 2 | 10 |
| 7. | Rakhine state | | 1 | 16 |
| 8. | Kayin State | | 1 | 7 |
| 9. | Mandalay Division | 7 | 3 | 30 |
| 10. | Shan State | 1 | 3 | 56 |
| 11. | Sagai Division | | 2 | 38 |
| 12. | Kachin state | 2 | 1 | 17 |
| 13. | Chin state | | 1 | 8 |
| 14. | Kayah state | | 1 | 6 |
| | Total | 35 | 29 | 302 |
POLYCLINICS
| No. | Clinic Name | Township |
| --- | --- | --- |
| 1 | Academy | Ahlone |
| 2 | Asia Royal Cardiac & Medical Care | Sanchaung |
| 3 | Maharmyaing | Sanchaung |
| 4 | Sakura | Sanchaung |
| 5 | Kaung Myat Mon | Sanchaung |
| 6 | Shwe Gon Dine Specialist Centre (SSC) | Bahan |
| 7 | Shin Pa Gu | Tamwe |
| 8 | Shwe Baho | Tamwe |
| 9 | Bahosi Medical Centre | Lanmadaw |
| 10 | Green Cross Specialist Centre | Lanmadaw |
| 11 | Kant Kaw Diagnostic & Neuro Centre | Lanmadaw |
| 12 | Royal | Lanmadaw |
| 13 | Aung | Lanmadaw |
| 14 | Win | Lanmadaw |
| 15 | Aye Myittar (2) | Pabedan |
| 16 | Aye Yeik Thar | Pabedan |
| 17 | 30 th Street Clinic | Pabedan |
| 18 | Shwe Bon Thar Street | Pabedan |
| 19 | Aye Myittar (1) | Pazundaung |
| 20 | Moe Thee | Pazundaung |
| 21 | Paragu | Botataung |
| 22 | Thukha Kabar | Kamayut |
| 23 | Aye Myittar (Baby Clinics) | Mayangone |
| 24 | Pan Hlaing International Hospital | Hlaing Thar Yar |
| 25 | Pinlone | North Dagon |